20/20 Vision Quest - Yoga Retreat in Yelapa Mexico
Join me from Jan 4th - 11th 2020 in Yelapa, Mexico, for Kundalini yoga, gentle yoga, ritual, ceremony, and shadow work to facilitate emotional processing and awakening. Yelapa (which means "land where two rivers meet") is an off-the-beaten-path paradise with no cars, away from the hustle and bustle of city life.
Your experience in Yelapa will be at the stunning mountain Sky Temple retreat center (check out their website here.) The Sky Temple offers a beautiful view of both the ocean and the jungle. The mountainside setting holds both expansive views with the wonderful sounds of the constant lap of the ocean and the sights and songs of tropical birds enjoying the trees surrounding the studio. The Sky Temple was built with the intention of creating a sacred space deeply connected to nature for yogis to enjoy.
The Village Yoga Retreat offered by the Sky Temple in Yelapa is held in a unique setting. Teachers and their yoga students enjoy the combination of a beautiful sacred space to practice yoga, immersion in tropical beauty and being part of village life. Combining yoga, walking, hiking, ocean, river, waterfalls, tropical nature and being part of this Mexican village life affirms Yoga's ultimate theme of Oneness.
Watch this video below from a past yoga retreat hosted at the Sky Temple:
The Schedule
You'll enjoy breakfast in your casa each morning before heading to the Sky Temple for a morning session. Then, you will enjoy a lunch prepared at the Sky Temple and have the afternoon free to explore, go to the beach, go for a hike, take a nap, or whatever else you desire. Then we will meet again for a late afternoon session at the Sky Temple, followed by dinner.
During the morning Sky Temple sessions we will focus more on a physical yoga practice that is suitable for ALL levels, and will include both gentle and kundalini styles of yoga. In the evenings we will do the deeper inner work that is more meditative.
Please remember, though, that this is YOUR vacation and if you feel the need to skip one of the Sky Temple sessions (perhaps you just need a break, some alone time, extra time to process the inner work, etc.) that you may.
What You'll Learn and Do In Yelapa
Learn how to truly arrive in your own body and space, coming into harmony with nature, seeing where your place is in nature.

How to create a safe and sacred space for yourself to process, open, and heal old wounds.

A special Tibetan exercise to become more in tune with the parts of ourselves that we are scared to confront. The path to wholeness involves giving all parts of yourself a safe place to express/a voice, and this exercise allows us to do that.

Reflection, work with sensitivities, work around our triggers, inner child work

One night will feature an Ecstatic Dance session to help you physically work out the emotional processing work done throughout the week

If we are lucky, we will spot whales as they migrate for the winter!
See for yourself just how beautiful Yelapa and the Sky Temple are!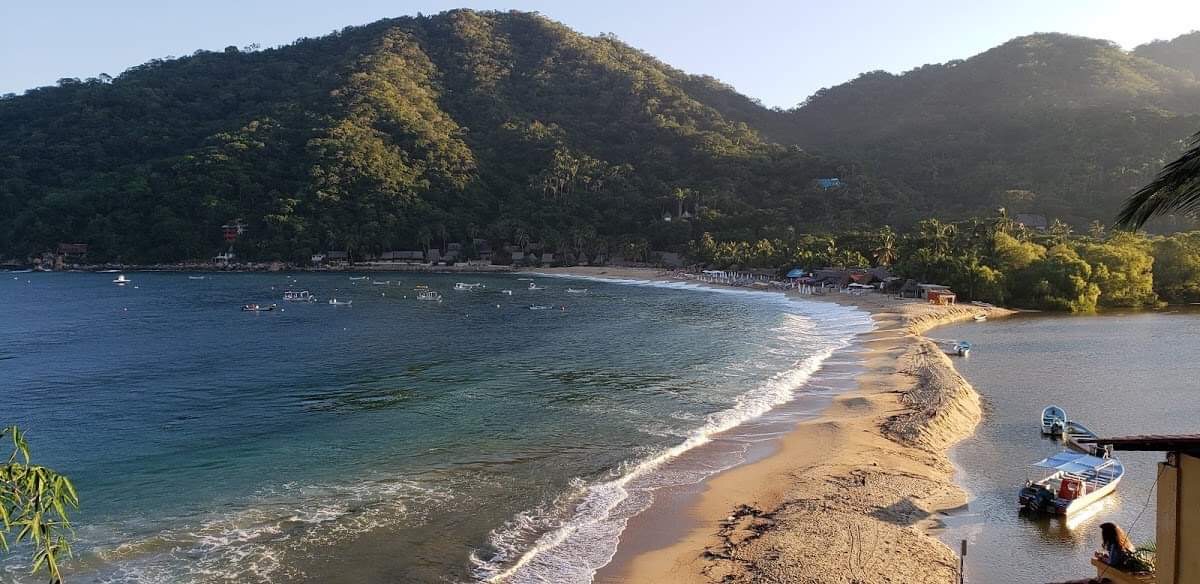 What is included in the retreat?
7 nights total lodging:

1-night lodging in Puerto Vallarta double occupancy (Saturday Jan 4th)

6 -nights lodging in Yelapa (Sunday Jan 5th - Friday Jan 10th, departing for Puerto Vallarta on Saturday Jan 11th)

Private round-trip boat transportation from Puerto Vallarta to Yelapa

All transfer of luggage from hotel in PV to boat and then Yelapa lodging and return to Puerto Vallarta

A guided hike up-river out of the village into the tropical jungle waterfall
Meals included:

All breakfasts

lunches (except 1) including a packed lunch for waterfall hike

4 group dinners in the village (2 dinners in Yelapa are not included)

Simple daily breakfasts will be enjoyed in the privacy of your own casa in the mornings before yoga. Your casa will be supplied with light breakfast food and drink for the week.

Delicious Mexican lunches will be held in the Sky Temple made up of authentic Mexican food filled with fresh vegetables cooked by the Sky Temple family.

The included 4 group dinners in the village will be at different restaurants.

The closing breakfast on departure day (Saturday Jan 11th) will be overlooking the bay at the lovely Café Bahia before getting on the boat.
Every participant will also receive from Diana an in-depth astrological birth chart as well as a map to the process of self-inquiry and journey we are embarking on in this 20/20 vision quest.
If you have dietary restrictions (gluten-free, soy-free, vegetarian, etc.) let us know during registration and you will be accommodated.
What is Not Included in the retreat?
Airfare

Transportation in Puerto Vallarta

Meals in Puerto Vallarta: Participants pay for arrival dinner Sat, Jan 4th and breakfast in PV the next morning Sun, Jan 5th. Participants using other boats will have to pay for their own travel. It's best to have everyone travel together on the boat.

A massage team is available for the week and your participants can make appointments upon arrival.

1 Lunch (on the last full day, Friday Jan 10th) and 2 Dinners (Wednesday & Thursday nights) in Yelapa are not included in the package. The Friday lunch is not included so that you have more time to spend on the beach or explore Yelapa, and Wed & Thurs nights you can explore the village on your own or with a small group.

Wednesday & Thursday night people can explore eating in the village on their own/small groups
If you want to arrive earlier in Puerto Vallarta or stay longer in Puerto Vallarta or Yelapa you are responsible for arranging your own reservations. Just ask for help or suggestions if you need it.
Lodging at the Casas Garcias
Your will be staying right on the beach at the Casas Garcias. Each casa is beautifully tiled with an ocean view, a kitchen, bathroom and variety of sleeping areas, filtered water for use all week and a personal lock box for valuables. You can see photos of the different Casas here.
Retreat pricing (outlined below) is for double occupancy. Single occupancy is an additional $350.
Some Casas sleep 3 comfortably, and each participant will receive a $100 discount if you opt for triple occupancy.
The Village Yoga Retreat does require participants to engage in lots of walking and climbing. It's a 7 minute walk from the Casas Garcias to the Sky Temple Gate. And it is a 7-10 minute hike up to the Sky Temple from the gate. You will need to allot 15 to 20 minutes to walk to the Sky Temple from your lodgings.
Yelapa, reached only by boat, takes people back in time enhancing the feeling of "getting away from it all" and invites participants to remember the simple life. Walking the beach, hiking in and out of the village, crossing the lagoon, walking up river, getting in waterfalls and climbing the sacred meditation path to the Sky Temple all create a sense of grounding in this other cultural world steeped in nature. This retreat is recommended for people who like walking and hiking.
Our week together includes walking the paths of Yelapa with the action of village life as children, adults, dogs, mules and horses all share the paths going about daily life. Yogi's here are welcomed with smiles and have fun exchanging friendly greetings of "Hola" on the path. Over the years, the visiting yogi's have become appreciated visitors in Yelapa. Our evenings will be spent enjoying the best village hot spots for dining. Judith's, native village family, right in the center of the village, invites the whole group to a Taco Buffett Dinner with music and hot tortillas fresh off the fire made by hand held in their back yard.

Pricing
Early bird before June 1st, 2019:
Single occupancy: $1850

Double occupancy: $1500

Triple occupancy: $1400
After June 1st, 2019:
Single occupancy: $2100

Double occupancy: $1800

Triple occupancy: $1700
$300 non-refundable deposit saves your space. Payment plans available for the balance.
Receive $50 off if you pay with cash.
The next 6 people who pay their deposit will receive a FREE astrology/intuitive guidance session with Diana, worth $120.